Graphic Designer
As part of the creative industries, graphic design is fast becoming one of the largest in the western world. Graphic Designers create visual solutions that gain attention, make a memorable visual impression and communicate a message. The creative process most often involves a client and designer working towards conveying a specific message to a targeted audience. Graphic design is about solving problems using design to communicate the solution. With more than one option available, choosing the right solution is the key to successful design communication.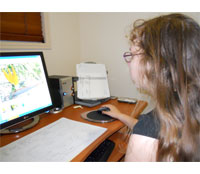 Becoming a Graphic Designer can lead to a variety of other career paths within the creative industries. Graphic Designers often progress to positions such as Art Directors, Creative Directors or Design Directors.
Listed below are a number of other fields that Graphic Designers may specialise in:
advertising
illustration
magazine and book design
corporate identity design
exhibition and set design
computer graphics
film and television
Graphic Designers may work freelance or as a member of a design team in a design studio or advertising agency.